LUCHT LHZ: Manufacturer of electric radiators
Made in Germany
We at LUCHT LHZ manufacture electric radiators at our site in Burgstädt, Germany. We produce a full range of electric radiators – for our OEM partners:
Partial storage heaters for maximum energy and cost efficiency
Convector heaters for fast heat
Combination storage heaters as a mixture of partial storage heaters and convector heaters
Bathroom heaters for maximum heat comfort with splash water protection
Duo Smart heaters, the modern electric storage heater (night storage heater)
Infrared heaters for comfortable warmth + modern design
Design heaters for the PLUS of individual design
Become an OEM partner and benefit from these advantages:
35 years of experience: We are a manufacturer of innovative electric radiators made in Germany.
Highest quality standards: We produce high-quality, durable and safe electric radiators for you in compliance with all specifications of national and international standards, directives and laws.
Full range of electric radiators: We produce all types of electric radiators for you and develop new products for you and with you.
Modern and efficient production: We reliably produce even large quantities of electric radiators for well-known OEM partners, have a large warehouse incl. dropshipping.
White label electric radiators: We supply you as a reseller with electric radiators with your brand label.
Showroom: Discover LUCHT electric radiators for OEM partners
Duo Smart Heater
The "Duo Smart Heater" from Lucht LHZ is a new type of electric storage heater. It combines the advantages of traditional static heat storage systems with the opportunities of the latest technological developments. Compact dimensions, variable charging options and smart control result in a trend-setting concept that is optimal for using future variable electricity tariffs or locally generated renewable energy.
Mehr erfahren
German, European and international standards met
Our modern and efficient LUCHT LHZ electric heaters meet all normative requirements for modern heating technology, especially the European Ecodesign Directive, for which we mark our products with an "ErP Conform" seal.
Currently, our sales and OEM partners sell LUCHT LHZ electric heaters in over 50 countries worldwide. 35 years of experience as well as highest demands on quality and technical reliability form a secure foundation for long-term and trustful customer relationships.
Smart control
Most LUCHT LHZ electric radiators feature smart control via DSM thermostat (+ DSM interface) and free LUCHT LHZ app.
Your customers benefit from many smart functions of their new electric radiator:
Everything under control: individual temperatures and times for each electric radiator – temperature, daily, weekly program and individual time program
Clear statistics: Daily, monthly and annual statistics are easy to retrieve
"Out-of-home" function: With only one command, all devices are turned down to individually set temperatures
Open-window detection: Detects open windows and automatically regulates temperatures downwards
Automatic function: Detects presence and absence and adjusts to the heat demand accordingly
Self-learning start function: Reaches the set temperature at the desired time (e.g. at 6:30 a.m. it should be 21°C in the bathroom)
Geolocation: Detects whether people are in the apartment and regulates the heating down to a set temperature when they are absent
Learn more about the smart controls of our electric heaters
Learn more and become an OEM partner
Electric radiators score with many advantages. Discover now.
LUCHT LHZ is a German manufacturer of innovative electric radiators. Your customers will benefit from many advantages that electric radiators offer them. LUCHT LHZ electric radiators offer:
maximum comfort
minimized investment costs
optimum lifecycle costs
emission-free space heating
power from renewable sources.
See for yourself!
Our electric heating showroom is available online for initial information 24 hours a day. If you have any questions about specific products and cooperation, please contact us.
News
Efficient production of electric radiators: Robot assisted bending cell
The fully automated FX BendCell 2550 bending cell from Euromac has been at our Burgstädt production site since the end of 2022. With high production capacity and precision, it bends side parts for our electric radiators. Roberta, as we affectionately call the bending cell, picks up the raw sheets with the robotic arm (KUKA KR 60) and turns them into finished side parts for infrared heaters and direct heaters in various bending steps – quickly, precisely and reliably in large quantities.
News
Efficient production thanks to new ERP system
In the summer, we introduced the DELECO® ERP system from Delta Barth at Lucht LHZ. It connects all areas of the company with each other.
Working with work plans, technologies, bills of materials, production orders, the feedback of work processes as well as the mapping of outsourced work results in many advantages for internal processes, for example in terms of adherence to schedules, utilization and coordination of employees and machines or streamlining of processes. In addition, LUCHT LHZ now works paperless and sends documents such as order confirmations and invoices electronically.
LUCHT LHZ latest news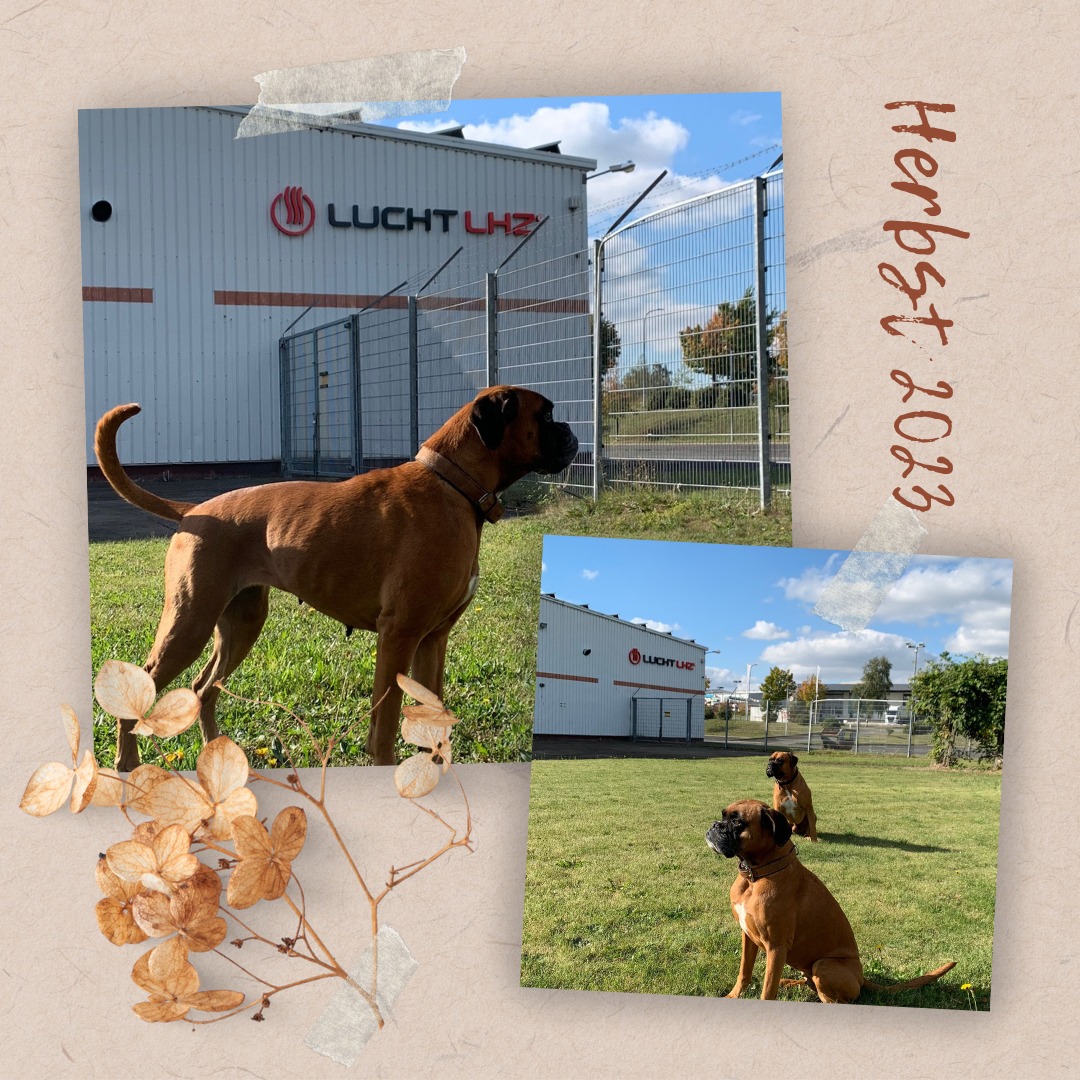 October 17, 2023
Autumn greetings from the Lucht LHZ headquarters in Burgstädt!
Today with animal support from Sam and Amy, our managing director boxers. They spread extra autumn joy in the office!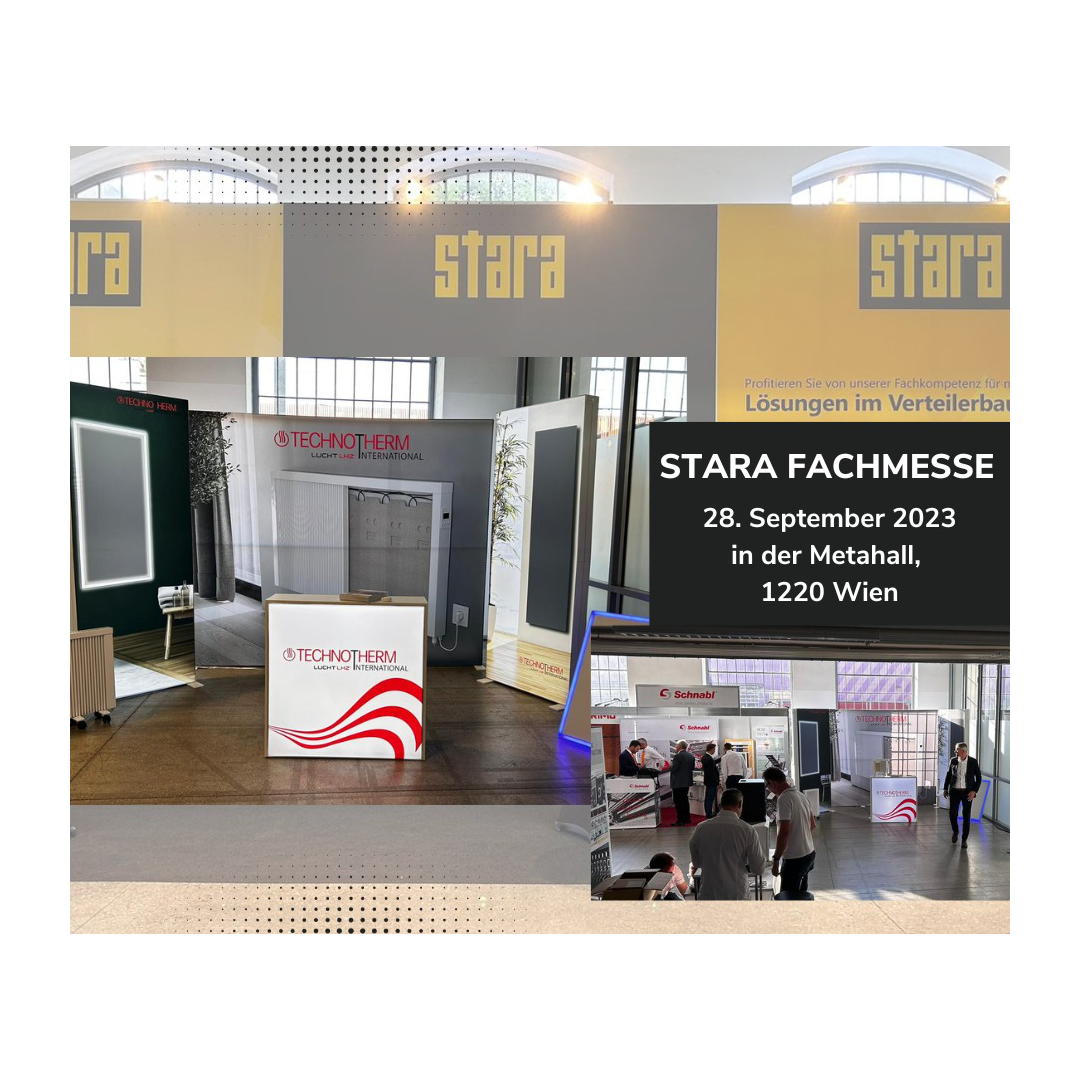 September 28, 2023
Lucht LHZ presents trade mark Technotherm at Stara Expo in Vienna!
Today, alongside over 50 other partners of Stara, the top electronics wholesaler in Austria, we're showcasing our latest technologies and products on 2,400m²!
Discover. Inspire. Experience.
Join us and get a glimpse into the future of electronics!
September 12, 2023
Highlight at the efa:ON Fair!
We had the great pleasure of welcoming the State Secretary of Saxony, Ms. Ines Fröhlich, and the State Secretary of Saxony-Anhalt, Mr. Thomas Wünsch, at our booth! Both showed great interest in innovations in the field of electric heating. It's inspiring to see top decision-makers engaging in the future of heating technology. Thank you for the enlightening exchange!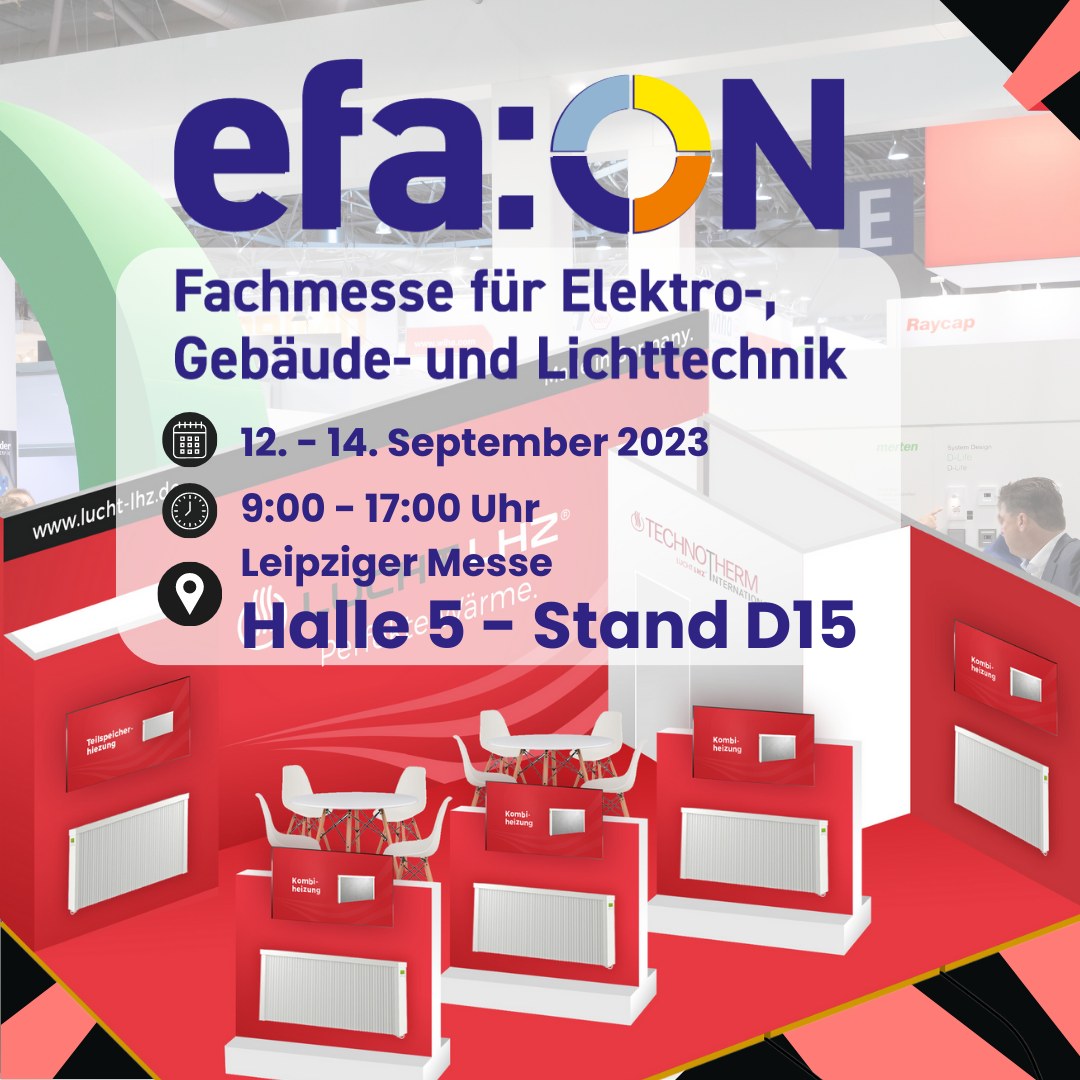 August 18, 2023
Watch out! After the Corona years without a trade fair, we are looking forward to finally getting in touch with our customers and interested parties again at the efa:ON trade fair as Lucht LHZ with our Technotherm brand!
Make a note of the period from September 12th to 14th, 2023.
Visit us in Hall 5, Stand D15 to discover the latest innovations in electric heating.
Take the opportunity to get to know our experts, ask your questions and take a look at the future of heating together. We look forward to welcoming you to the efa:ON trade fair!
Vacancies in production, service and management at LUCHT LHZ in Burgstädt, Germany
Become part of our team
Motivated employees, research and development, modern production facilities, efficient processes, coupled with 35 years of experience – only that results: Perfect heat. To feel good.
We have exciting job offers for direct entrants, career changers, pupils & students and for you!
You are looking for a new professional challenge in the areas of
Development & PlanningCenter
Production & Management
Service & After Sales?